Find out how the decadent 17th century jewellery design is making a comeback in a modern

#Renaissance

.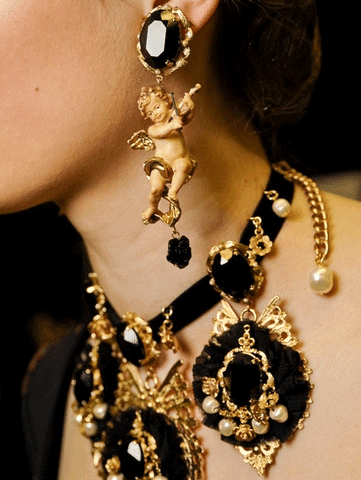 Following the peak of the Renaissance, the second half of the 17th century saw the emergence of retail jewellers, who distinct from the craftsmen jewellers of the past, were also starting to cater for the bourgeoisie.
On the whole, #Baroque jewellery is characterised by an obsessive use of symmetry, arabesque motifs, exotic flower pendants (inspired by the study of botany during the early Baroque), enamel, gemstones and gold, often creating an architectural look.
In the late Baroque period, naturalism was further explored in the emergence of Rococo, which embraced asymmetry in jewellery design.
As for material, portraits from the Baroque period show the popularity of pearl jewellery during this time, often worn as drop earrings or as a string in the hair. Throughout this period pearl earring design became ever more elaborate, resulting in the beautiful #girandole design - these earrings are made up of three dangling ornaments suspended on a central piece, similar to a chandelier.
While Baroque embraced naturalism over symbolism, religion was still key in the designs and cross pendents took on a greater grandeur.
What is certain is that the Baroque style remains as impressive today as it was in the 17th century. One brand fuelling the resurgence of this design is #Soru jewellery, founded by two half English-Sicilian sisters in 2013. The brand sources their pieces from Italy and Turkey and owes much of its success to its cult celebrity following including The Duchess of Cambridge, Chiara Ferragni and Millie Mackintosh and clever use of social media. Notable baroque pieces in the Soru collection include their Baroque Pearl Earrings and Santina Choker.
To view MADE IN THE MED's own baroque inspired pieces head to our ebay page now to view the below items, which all feature genuine materials such as mother of pearl, red coral and sterling silver and are all made in the Mediterranean.